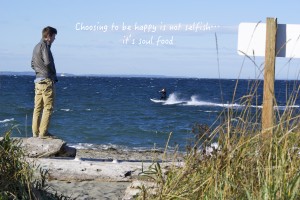 So many times I look in the mirror and say, what is wrong with you? Why are you like this? Why can't you just wake up and be happy? Why are you broken?
Everyday is a battle. Who will win? Happiness? Sadness? Depression? Anxiety? Sometimes all it takes is one person making an off the cuff remark or maybe an old memory that creeps back up, and that can set the tone to my day. Even if I fight against it, sometimes the bad day wins.
What I am deciding is to not let a bad day today determine my tomorrow. I know that I am a little broken and only I can put the pieces back together. So tomorrow I will pick myself up, dust myself off and start the day fresh. I choose to feel happy. I deserve it.
Choosing to be happy is not selfish…it's soul food. We have to replenish our souls when they become depleted or defeated. This is the remedy for the sadness.
When is the last time you fed your soul with the pure joy of happiness? Maybe it's time to start. I am.